Your home away from home
Good accommodation is just as important as the place where you study.
Living with a New Zealand host family is the most popular choice for our students. It's the perfect way to experience the 'Kiwi' lifestyle and receive extra support outside of classes.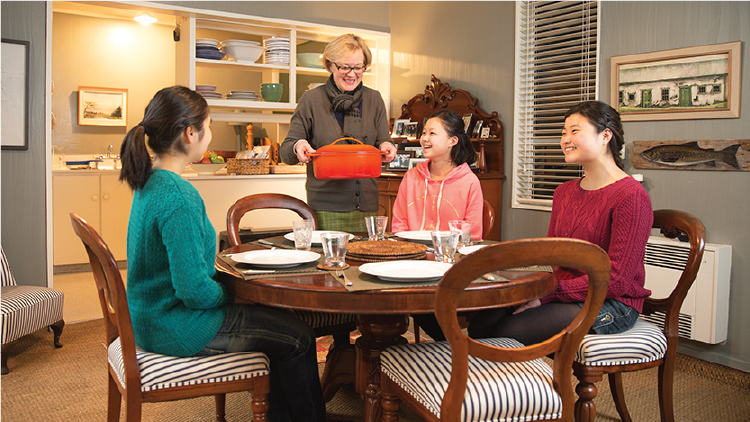 Students who choose a homestay can expect to help out with chores, enjoy family meals and socialise with their host family - just like everyone else in the household will be doing.
Why homestay?
With a CCEL homestay family, you'll enjoy:
A single room with a bed and place for your clothes
A heater and desk in your room
Breakfast and dinner during the week (Monday - Friday)
3 meals at the weekend and on public holidays
Free Internet access (reasonable use)
All of our homestay families are carefully selected and monitored.
Most students find living with one of our host families a fun and valuable experience, but if you're having difficulty adjusting to life in New Zealand you can always talk to your homestay family or CCEL's Accommodation Team for support.
Need more information?
You can find more information about accommodation in the Frequently Asked Questions section.
View our FAQs Page
Want to ask specific questions and did not find the answer in our FAQs page?
Contact Us
Hosting a student from overseas is a very rewarding experience. It's an opportunity to make a new friend and learn about another culture.
Our hosts tell us they really enjoy learning about life in Asia, Europe, South America or the Middle East, and our students appreciate the warm and friendly introduction to Kiwi culture that they get from their homestay family.
What we look for in a CCEL host home:
A furnished separate bedroom with adequate heating
Breakfast and dinner on weekdays and all meals at the weekend and on public holidays
Wireless internet access
A warm and friendly environment where the student is included in family life
Assistance with learning how to travel to and from school and adjusting to life in NZ
Interested in becoming a host?
We are always willing to meet new families with a genuine interest in hosting international students.
Apply now
Fill in this information below and submit your interest